Amazon can be a very profitable sales channel as it allows you to reach a huge audience of more than 300 million people worldwide and turn them into your customers.
But there's a catch — 2 million small and medium businesses have the same idea. So, how do you stay ahead of the curve and make your store stand out in such a fiercely competitive marketplace?
There are different methods for boosting your sales, such as getting more reviews, using FBA, leveraging hi-res product images, polishing your listings, and paying attention to your SKUs. But, to unlock the true potential of your store and outsell your competitors, it's crucial to identify and implement the best Amazon repricer out there.
In this article, we'll discuss the benefits of having this powerful tool, how to use it, and provide a roundup of top Amazon repricing tools.
Why Should You Use an Amazon Repricer?
Amazon is known for changing their prices million times a day, or every 10 minutes on average, using the proprietary dynamic pricing algorithm. In other words, the prices change based on product demand, availability and supply, competitors' prices, customers' purchasing behavior, and a number of other parameters.
This way, the world's largest online store makes sure their prices are always the most competitive, thus maximizing their profit, boosting customer loyalty, and providing an exceptionally personalized customer experience.
Amazon offers resellers a built-in tool, but third-party solutions offer advanced features, more in-depth analytics, and different customization options.
The benefits of having an Amazon repricer in your toolset include the following:
Save Time
When you're just starting your store and have only a couple of items, it's possible to adjust your prices manually. But as your listing grows, you won't be able to keep up with its volume and change every product's pricing several times a day.
Implementing an Amazon repricer means putting the repricing process on autopilot and using the time you'd otherwise spend on such a repetitive, seemingly menial, and yet crucial task to develop your business.
Win the Buy Box
As you know, winning the Buy Box means greater visibility and trust, which translates to more sales. Given that the Buy Box accounts for 82% of purchases on Amazon, it's clear why it's so essential to secure it, and the right pricing is one of the top eligibility factors.
That's where a repricer comes in to help you stay competitive by managing your listings, inventory, and pricing.
Cut Costs 
Being an Amazon merchant is a lot of work, which doesn't leave you too much time and energy to strategize and adjust your pricing. Instead of hiring someone responsible for this time-consuming task, it's much more effective and affordable to implement a repricer tool that will automate the process and keep everything under control.
How to Pick the Best Amazon Repricer for Your Business
When we talk about the best Amazon repricer tools, it's worth mentioning that software that performs well for one seller might not be the right fit for another. So, it's important to consider your requirements before making a decision.
Here are some factors to take into account:
Repricing speed — it's best to opt for a tool that adjusts prices instantly
Is it cost-effective for your needs? Think about the pricing model that's most suitable for the size of your listing.
Does the vendor charge extra for continuous repricing?
How much control will you have over your pricing strategies? The best Amazon repricer tools allow for a high level of customization.
Does the tool allow you to select the seller you want to compete with and the parameters you want to predefine?
How many competitor filters are there? The more, the better in this case, as you want to include filters such as item condition, merchant rating, reviews, or shipping speed.
Analytic tools and reporting. Having access to your data is crucial as it will show how your efforts are working and what to improve.
Is it user-friendly?
Is it scalable? Choose a repricer that you'll be able to use as your store grows and you add more items to your listing.
Customer support. Last but not least, you need to research customer support and check what's included in your price.
Aura is an algorithmic Amazon repricer with robust customization features. Powered by AI and machine learning, this software has the ability to analyze your competitors' pricing strategies and make informed repricing decisions. Moreover, Aura learns from these insights and adapts to your competitors' strategies, thus allowing you to outperform their efforts.
Since having the right repricing strategy is equally crucial as using the right tool, Aura offers both predefined and custom strategies, which makes it suitable both for newbies and seasoned sellers. For example, there's a "Buy Box Targeting" configuration, meaning your prices will be automatically updated based on these presets to help you secure the Buy Box.
Another reason Aura ranks very high on our list is its instant, real-time repricing, as opposed to many other tools that update pricing every 10 or 15 minutes.
A sleek, intuitive dashboard has a user-friendly mobile version so you can access your settings and analytics on the go.
Finally, Aura's Workflows feature is a real clincher that will save you hours you'd otherwise spend managing and optimizing your listings manually.
Great customer support paired with a comprehensive library of help articles is a bonus that should be mentioned.
Pricing
$97 for up to 50,000 listings
A 14-day trial is available.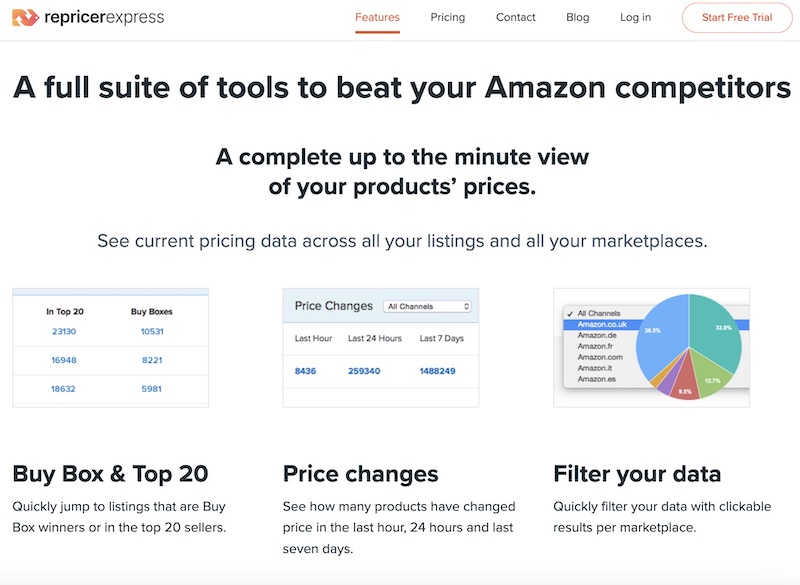 If you're looking for repricing software you can use both on Amazon, eBay, and a total of 11 marketplaces, then RepricerExpress might be a notable addition to this list.
Winning the Buy Box is at the top of every seller's list, and RepricerExpress also has its set of strategies for achieving this goal. It gives you the opportunity to set the minimum and maximum price for each product, as well as rules and guidelines for both group and individual listings. You can also filter your competitors based on different parameters such as ratings, feedback, dispatch time, or shipping location.
With RepricerExpress, you can rest assured you'll minimize the margin of error.
The software monitors your competitors and gives you insights into their pricing strategies. For example, if it's not too difficult for you to win the Buy Box or if your competition tends to run out of stock frequently, RepricerExpress will increase your prices little by little so that you can yield more profit.
Pricing
RepricerExpress comes in 4 different subscription plans:
Express £64 per month — up to 5,000 listings with 15-minute repricing
Plus £189 per month — up to 50,000 listings with instant repricing
Ultimate £319 per month — up to 250,000 listings and Net Margin repricing
Extreme £949 per month — up to 1 million listings and priority repricing.
A 14-day free trial is available.
BQool is another repricing solution that leverages AI to maximize repricing and the time spent in the Buy Box. This platform offers three repricing tools:
Conditional repricer, allowing you to switch between rules automatically and use different filters such as the inventory, sales velocity, or the suppressed Buy Box.
AI-powered repricer, which includes several intelligent preset strategies.
Rule-based repricer with a number of different custom rules and fulfillment methods.
It earned a spot on our best Amazon repricer software solutions, as it also features clever listing optimization, including keyword research options, suggestions, and A/B testing. Inventory management is another handy system with low-stock alerts that will help you prevent stockouts.
Apart from the repricing toolkit, BQool boasts Big Central, a centralized dashboard that gives you an overview of your entire Amazon store so that you can stay on top of your sales, profit, inventory, and other KPIs and focus on areas that need improvement.
Pricing
The Repricing bundle comes in several plans:
$25 a month for 1,000 SKUs and 15-minute repricing. This plan includes only a Rule-Based repricer.
$50 a month for 5,000 SKUs and 15-minute repricing. This plan includes a Conditional Repricer, AI-Powered Repricer, and Rule-Based Repricer.
Besides that, you can get 10,000 SKUs for $100 a month, 30,000 SKUs for $200 a month, and 50,000 for $300 a month. These three plans include a Conditional Repricer, AI-Powered Repricer, and Rule-Based Repricer, as well as instant repricing.
A 14-day free trial is available.
Sellery is a real-time Amazon repricer offering customizable repricing strategies, pricing rules automation, private label repricing tools, and the BuyBoxBuddy feature.
According to the vendor, their Minimum Price feature is a guarantee you'll never lose money on any sale.
Sellery's intelligent repricing strategies include undercutting your competitor or matching their prices, leveraging sales velocity to adjust the prices of your Private Label items, slashing your FBA items prices to speed up their sales and avoid long-term storage fees eating into your profit, or spot listing hijacking.
Pricing
As for the price, it's 1% of your monthly gross sales, starting at a minimum of $50 a month. This percentage-based model makes Sellery suitable for smaller sellers as they don't have to pay a fortune to implement repricing strategies.
A 14-day free trial is available.
RepriceIt
Starting at $9.95, Repriceit is one of the most affordable Amazon repricer tools.
Marketed as a "hands-free inventory repricing," this solution doesn't come with all the fancy features and widgets as other flashier repricers. It's still a great way to start optimizing your listings, winning the Buy Box, and maximizing your time in it.
Still, this doesn't mean Repriceit lacks some cool and handy features. With it, you can:
Predefine your pricing rules, frequency, as well as minimum/maximum prices
Reprice your FBA inventory separately from the MFA inventory
Win the Buy Box by choosing to match, beat, or completely ignore the current price
Reprice items based on their total costs, including shipping, and not just the listing price
Prevent price crashes and price wars by setting up a fixed repricing schedule.
Pricing
There are seven subscription plans:
Basic — $9.95 for up to 500 SKUs
Basic+ — $16.95 for up to 2,000 SKUs
Merchant — $24.95 for up to 5,000 SKUs
Merchant+ — $29.95 for up to 10,000 SKUs
Pro — $39.95 for up to 20,000 SKUs
Pro+ — $59.95 for up to 50,000 SKUs
Premier — $79.95 for up to 100,000 SKUs
A 30-day free trial is available.
Final Thoughts
Using an Amazon repricer isn't an option any longer. If you want your business to thrive, you have to be competitive in the world's largest online marketplace, and this can be achieved only if you optimize your listing and regularly adjust prices.
In this list of the best Amazon repricer tools, we've made sure to also include useful information on how they work and what to take into account when choosing the one for your business. Use this resource to help you make the right choice and boost your Amazon sales.