Today, just about everyone is on social media, which makes advertising on sites like Facebook an essential part of running a business. With nearly three billion active users as of April 2023, Meta's darling social media site allows businesses a wider reach to promote their products and services. 
While the platform and UI may take some getting used to, Meta has taken leaps in making their ad platform accessible to everyone. In this article, we'll discuss how Facebook advertising works and how you can personalize your ad campaigns. 
How Do You Create a Facebook Business Page?
First things first, you need to create a business profile on Facebook. Any business profile must be linked to a personal one, so you must log in to your existing personal account and create a page. Then you'll need to take care of the following before you proceed:
Account and Contact Details
You'll want to put up as much contact information as you possibly can when creating your business profile, like type of business, addresses, service areas, contact details, websites and social media accounts, hours of operation, and more. Things like external websites and other social media accounts might prove useful for future advertising efforts, so be sure to add or create them as needed. 
Media and Page Customization
You need to upload an appropriate profile picture that represents your business. Most businesses choose a professionally-produced logo, but that'll be up to your own preference. Don't forget to use a banner; this is a great way to maximize your media usage and create a lasting impression with your customers. You also want to create a vanity URL to make your Facebook page more memorable. 
Content Creation
Now that the initial legwork is out of the way, you'll need to start publishing content. Consistency is key here, so aim to maintain an active presence by regularly posting valuable content. You can post updates, photos, videos, links, and other types of content to attract and engage your audience.
Facebook Advertising Goals
Creating and optimizing your business page is just the start of the process. Now you can use Meta's available ad services to fit your goals. Facebook offers several types of advertising options, each suited for different ad objectives. 
Promote your Page:

Used to increase peoples' awareness of your business or service's Facebook page to get more followers and likes.

Promote your business locally:

Create a targeted ad campaign for your service area.

Boost post:

Reach people more likely to be interested in your page and engage with your post. Boosting a post can help you get more messages, video views, leads, or calls.

Boost an event: E

ncourage attendance and generate interest in an upcoming event (which you can schedule on your page).

Get more website visitors:

Send people to your linked website (either your landing page or blog) to generate more traffic.

Promote your app:

Link your business app and encourage people to try it.

Get more leads:

Find people interested in your business or product to gather their contact info.

Get more website purchases:

Direct interested users to a sales or service page to generate more purchases.

Get more vehicle sales:

Use your page to promote your vehicle inventory for in-market shoppers.
Note that not all of these options are always available for every business account; their appearance depends on your chosen category. For example, a writing service business page will get different options than a business that provides guides and material for stock investments. 
Special Ads Category
Facebook has a separate section for businesses looking to create ads about credit, personal loans, employment, housing, social issues, elections, or politics. These fall under the Special Ads category, which follows a different set of guidelines from regular ads. 
According to the Meta Business Center: 
If you're creating a campaign that belongs to one of the special ad categories below, you'll need to choose the category that best describes your ads.
Special ad categories apply to ads that have specific requirements in certain countries, such as:
Authorization and "Paid for by" disclaimers for ads about social issues, elections or politics.
Limited audience selection tools for ads about credit, employment or housing opportunities to help protect people from unlawful discrimination across our technologies.
How Does Facebook Charge for Ads?
Facebook uses an auction system to charge advertisers. But to make it simple, you will only get charged for the number of clicks or impressions you get during your ad campaign duration. 
On the Advertising page, you can run your ad continuously until you stop it or set a duration. You will be asked to set a daily budget regardless of your choice. The budget for Facebook ads isn't necessarily what you'll be charged at the end of your ad campaign. For example, you can set up a $100 ad campaign for one week to get more likes, but if only $80 is used over that week, you'll only be charged $80 on your final bill.
Meta sends out monthly bills. Aside from that, you will also be asked to set a payment threshold. Reaching your payment threshold (whether the charges came from single, multiple, or consecutive ads) will automatically generate a charge on your chosen payment method. You also have the option to set up prepaid funds, which will exclude your ads from the payment threshold. 
Cross-Platform Advertising
Meta offers Facebook business pages the chance to create cross-platform ads on all of their technologies. You'll need to have a separate account for each, like Instagram or WhatsApp, and connect them to your Facebook Business page to take advantage of this option. If you decide to go cross-platform, your ad budget will be shared across all chosen apps and sites. 
Audience Customization
Facebook ads can be customized in several ways, which you can then save as your audience categories or profiles. Examples of default audience categories are "People who like your Page," "People who like your Page and people similar to them," and "Advantage Audience." Advantage Audience allows Facebook to decide which people will be shown your ads based on your page details, which will be adjusted over time to reach more potential customers. 
As for customization, you can either use the "People you choose through targeting" or create a new category. You will be directed to the Audience Dialog popup, where you will see customization options like gender, age, and location. Any audience profile you create will be saved so you can use them in the future.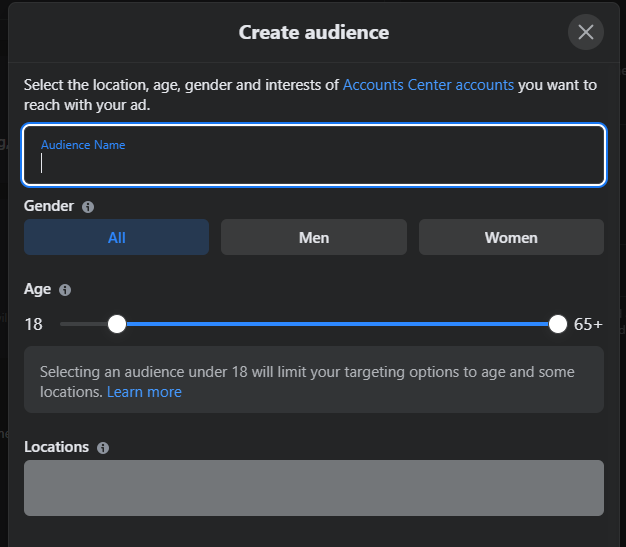 You can go one level further and browse the Detailed Targeting option, where you can further customize your audience according to Demographics, Interests, and Behaviors. Each category presents numerous customization options to choose from. For example, you can filter audiences using educational attainment, financial status, relationship status, work industries, job titles, and even life events under the Demographics category.
Another way to create an audience profile is to visit Meta's Ad Manager site, where you'll be presented with different options based on audience source. 
Most of these sources are provided by Meta, but you can link your website using Meta Pixel to synchronize visitor data from external sources like websites and online shops with your Meta accounts to generate a more rounded overall view of your advertising campaign. 
Final Thoughts
As you can see, the sheer number of customization options for spending and targeting makes advertising on Facebook a very lucrative deal for business owners. Feel free to try Facebook Advertising, but always remember to align your advertising practices with your business goals to maximize your efforts and resources and get better results.  
About the Author
Rick Orford is a two time best selling author (his books have become Wall Street Journal, USA Today, and Amazon best sellers), investor, and mentor. His work has appeared in the most authoritative publications, including Good Morning America, Washington Post, Yahoo Finance, MSN, Business Insider, NBC, FOX, CBS, and ABC News. His passion is personal finance and works tirelessly to deliver content in an easy-to-understand manner.