Launching a new business is always exciting. However, the thrill that comes with the process of turning your idea into something tangible can overstretch your capacity, and a day or two later you might find that you haven't covered all your bases. At launch, it's not uncommon for entrepreneurs to forget to obtain a document or two which can become a serious liability later on.
It happened to us when we registered our startup and forgot to properly configure our taxes. Luckily, we were aware that we're no legal savvies, and upon learning that there are firms that can take care of every lawful responsibility concerning our company, we decided to hire one and let them do their thing.
We soon learned that that was such a fortunate decision – the registered agent service that we hired made it very clear that if we'd left these matters unattended, we could've faced serious repercussions.
Now, we want to help you get the best possible legal help, so we compiled a list of the 7 best registered agent services on the market. Read on to figure out which is the most suitable for your business.
What Is a Registered Agent?
The registered agent (sometimes referred to as a resident agent, statutory agent, or agent for service of process) acts as a middleman between your company and your state's government.
Registered agents deal with every legal obligation for your business, from receiving tax notifications to handling compliance documentation. However, their most important role is accepting service of process, meaning their job is to notify you if and when there's a pending lawsuit against your company.
Anyone can act as your registered agent really – you can even appoint yourself as your registered agent. The agent needs to have a registered address in your state and be available during business hours, that's it!
Why You Should Acquire a Registered Agent Service
We highly recommend that companies use a registered agent service. Those are firms that are highly skilled in the area and will take care of all the administrative work for you, so you can focus on your business' growth.
There are numerous advantages of hiring a registered agent service. They allow you to have a piece of mind and give you the opportunity to dedicate your attention to your professional goals as well as keep your schedule flexible, as they'll always be there to attend every legal notice.
But let's talk about each of our top 7 registered agent services as we review them below. By the time you're done reading about them all, you'll have a clear idea which is most suitable for your business.
1. ZenBusiness – The Overall Best Registered Agent Service
ZenBusiness is our top recommendation as we use it for our LLC. As a matter of fact, ZenBusiness is suitable for any type of company: LLC, C or S corporation, sole proprietorship, general partnership, even nonprofit.
Pros:
ZenBusiness offers the right tools, expertise, and guidance to help you be your own boss. It has everything you need to start, run, and grow your business.
Thousands of customers love ZenBusiness because it offers an incredibly fast service, it's simple to navigate, and has great customer support. On top of everything is the very affordable price – something that's not so common in the business formation space.
ZenBusiness's services use technology and automation to get you all set up as quickly and easily as possible. Their jargon is largely simplified so you get a better understanding of everything you need to file, and there are no hidden fees which is a huge plus for us.
Their registered agent service excels when it comes to handling all correspondences with the Secretary of State and the rest of the government agencies while ensuring that all of your tax and legal documents are successfully communicated and properly managed.
Having said that, this service is great for ensuring legal compliance, so you have a good standing with the state and avoid any penalties.
Cons:
The only downside to ZenBusiness that we discovered is that their Worry-Free Compliance isn't included with their starter package. You'd have to purchase it additionally if you want to stay fully compliant with the Secretary of State.
Pricing:
ZenBusiness offers three plans: "Starter", worth $129/year, "Pro", worth $249/year, and "Premium", worth $349/year.
However, if you're only interested in hiring a registered agent, ZenBusiness offers two plans for that: "Standard Coverage" that costs $99/year, and "Complete Coverage" that costs $149/year.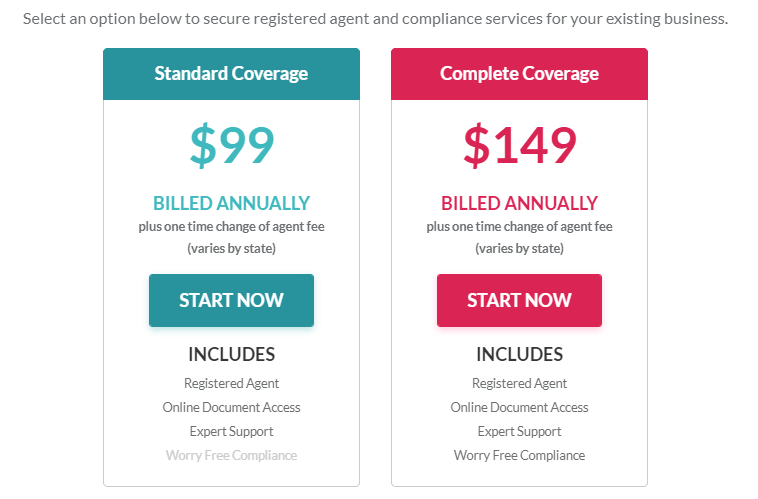 *Note that: Each state charges a fee to file a new business entity. These fees are not included in ZenBusiness's packages and you'll need to pay extra depending on the state you're registering your business in.
2. Incfile – The Most Affordable Registered Agent Service
Our runner up on the best registered agent services list is Incfile, primarily because their packages cost a one-time fee. Launched in 2004, it has become a name that's easily recognizable in the industry – they have served over 250k businesses since their inception. Incfile tends to LLCs, C and S corps, and nonprofits.
Pros:
As we mentioned above, Incfile's packages cost a one-time fee and all come with a registered agent that's free for the first year. This is a rare occurrence on the market among this type of services.
Incfile cultivates a team of experts that use technology to streamline the process of business formation so your fantastic idea can easily transform into a healthy business.
The service includes features such as verification of company name availability, lifetime customer support, free business tax consultations, preparation and filing of articles, etc.
Furthermore, Incfile has an extensive learning center where you can learn all about different types of businesses, how to choose the right one for you, and how to proceed after formation.
Cons:
One disadvantage that we discovered about Incfile was that their customer support isn't fully personalized and resolving a potential issue can turn out to be a bit time-consuming.
Pricing:
Incfile pricing plans are as follows: The "Silver" package costs $0, the "Gold" one is $149, and the "Platinum" package is $299. These are one-time prices, but remember that you also need to pay the state fee, depending on where you're based at.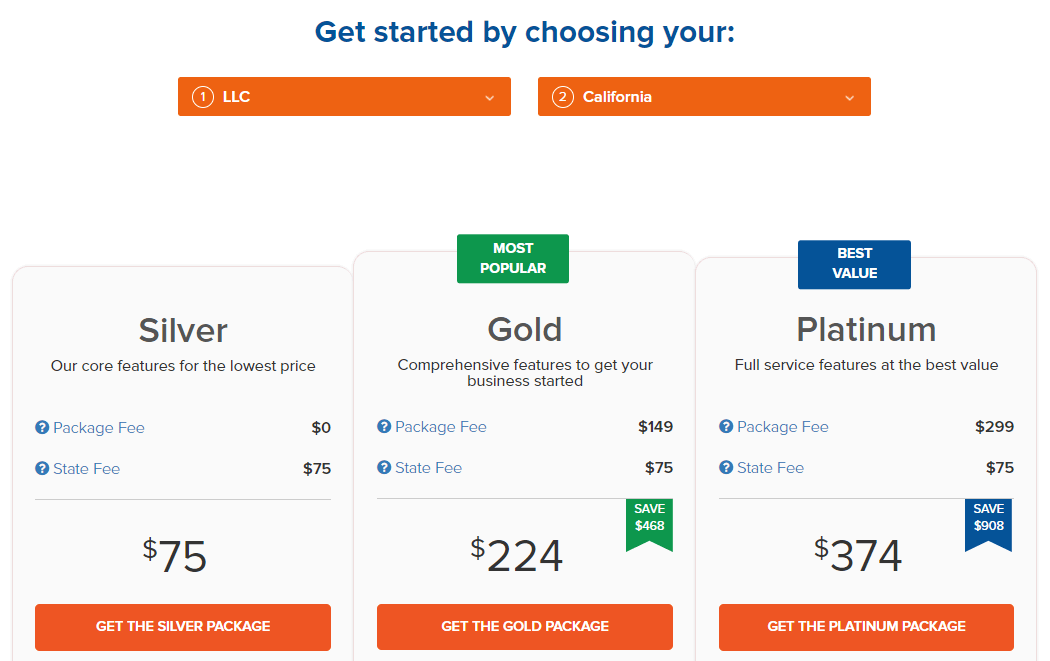 On the other hand, each package comes with a registered agent included and they're FREE for the first year. After that, it costs $119/year.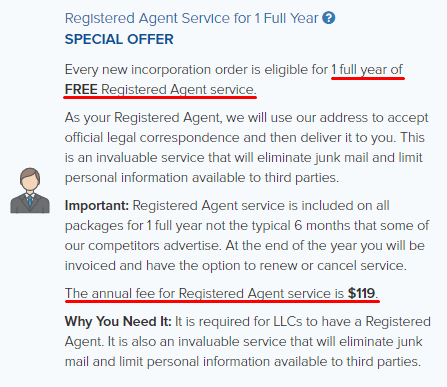 3.

MyCompanyWorks
– The Best Reviewed Registered Agent Service
Everywhere we looked, people were raving about how satisfied they were with MyCompanyWorks. Review sites are full of positive customer feedback, noting how great MyCompanyWorks' support is and praising the features it offers.
Pros:
MyCompanyWorks caters primarily to corporations and LLCs and has served over 60,000 such businesses since 2001. Alongside the hundreds of positive reviews, this fact proves the company's worth the trust.
Besides the managed annual report service and online access to scanned documents, MyCompanyWorks offers business entity monitoring – a feature that monitors your company's status and verifies that you're constantly in "good standing".
What's more, the platform provides a free guidebook and MyCompanyForms™ – a collection of over 200 business and tax forms to help you grow and manage your company.
The service's customer support is one of the best among this type of services – an agent will contact you in 10 to 20 minutes after you request assistance and promptly deal with your issue. If there's something you're not satisfied with, they make sure to do everything they can to fix it or you'll be offered a full refund for the fees you paid.
Cons:
There are two things that bugged us with MyCompanyWorks' approach. The first is that it can take a little longer to receive your paperwork since the company takes extra measures to ensure everything is filed in the proper order.
The second downside is that the registered agent service is included only with the most expensive plan, while many other platforms include this service with all of their plans.
Pricing:
MyCompanyWorks offers three pricing plans: "Basic", priced at $79 + state fee, "Entrepreneur", priced at $199 + state fee, and "Complete", priced at $279 + state fee.
Note that the registered agent service is only available with the Complete package, and if you want to purchase it separately with the other two packages, it costs $99/year.
4. Inc Authority – The Best Startup Registered Agent Service
If you plan on registering your new startup as an LLC, Inc Authority is the perfect option for you. With Inc Authority, it's absolutely free to file an entity (you only pay the required state fee), which makes it super convenient for startups, considering they have really tight budgets. That being said, Inc Authority serves only LLCs and corporations.
Pros:
One of the reasons why we included Inc Authority on our list is that it boasts an incredible 4.8 on Trustpilot and satisfied clients are the best indicator of the credibility of a service.
Offering a comprehensive range of services under one roof, Inc Authority employs an incredibly hard-working support staff that tirelessly works towards securing your company's future. They even dedicate business coaches to help you with one-on-one guidance and support.
From the many crucial features Inc Authority includes in their plans, you can make great use of their tax planning, estate, and retirement planning capabilities.
Cons:
What really bugs us about Inc Authority is the lack of pricing transparency. They really like to brag about their free business formation option, but if you dig deep enough, you'll discover they have premium plans which contain all of those amazing features we mentioned above but are actually pretty expensive.
Pricing:
As mentioned, registering a new business is free with Inc Authority and you get a full year with a free registered agent. If you want more features, their paid plans consist of three bundles: "Starter" – $399, "Executive" – $499, and "Tycoon" – $799. These prices are one-time and calculated on top of the state filing fee.
5. Northwest – The Friendliest Registered Agent Service

Contributing to corporations, nonprofits, and LLCs, Northwest is a service that aims to make you feel like you're part of the team. You'll simply never receive a "no-reply" email from them, and their hospitable staff is consistently praised for its service.
Pros:
Northwest filing approach is very intuitive – you fill a form only once and whenever you need to fill another form, it will automatically populate it with your data.
The service takes great care in storing each of your documents by scanning all of them, as opposed to other services that only scan what they think is most delicate.
Northwest is also big on privacy. They have implemented a practice called Privacy by Default® that is at the core of how they do business, meaning they put great effort into minimizing the access and exposure to your personal data.
Cons:
Although Northwest includes everything in one elite package, the price you need to pay for it is notably higher than other solutions out there.
Pricing:
Excluding state fees, Northwest's price for starting a new business is $225.
That package includes a registered agent, but if you're interested only in hiring a registered agent from Northwest, they offer that option for $125/year.
6. LegalZoom – The Veteran Registered Agent Service
Behold the most experienced among the registered agent services – LegalZoom. It's been on the market for 20+ years and it has served over 4 million customers. Stretching beyond business formation services, LegalZoom offers intellectual property agreements, contracts of any sort, wills & trusts, and more.
Pros:
LegalZoom has your back by providing both simplified self-guided legal services and help from fantastic independent attorneys. Their plain English questionnaire does a great job at eliminating red tape and takes very little to complete.
Additionally, their Compliance Calendar feature works great to inform you about important dates or deadlines. If you're dissatisfied with LegalZoom, they offer a full refund if you cancel within 60 days from the day you purchased your plan, no questions asked.
Cons:
Although LegalZoom does a great job as a registered agent service, it's the costliest option on the market.
Pricing:
Depending on what type of business you'd be filing in, LegalZoom's pricing plans are as follows:
LLC – "Economy" – $79, "Standard" – $329, and "Express Gold" – $349;
Corporation – "Economy" – $149, "Standard" – $329, and "Express Gold" – $349;
LP and LLP – "Economy" – $149, "Standard" – $259, and "Express Gold" – $379;
Nonprofit – "Economy" – $99, "Standard" – $239, and "Express Gold" – $359;
DBA – "Standard" – $99 and "Premium" – $119;
Registered Agent (as an additional option to above plans) – $149/year;
Registered Agent Service – $299/year.

7. Harbor Compliance – The Most Scalable Registered Agent Service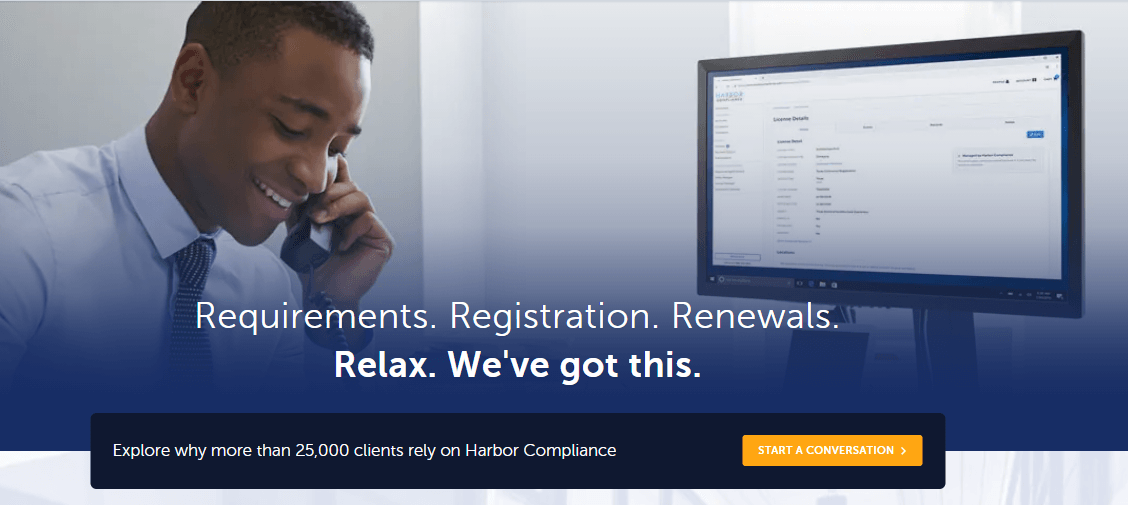 Being a relatively new solution in the field, Harbor Compliance still manages to instill confidence with the top-notch services they offer. You'll find their approach most suitable if you're interested in expanding in more states or ordering multiple years ahead, as they are great at scaling and offer valuable discount options.
Pros:
Harbor Compliance offers a nationwide registered agent service that works best with multi-state companies. Its advanced compliance software ensures efficient and secure processing in order to save you time and money while offering discounts on multiple orders.
Knowledgeable professionals are always available to assist you with any arising issues, unlike many other services that outsource 3rd party customer support.
The service also offers free whitepapers and compliance guides, and whenever they accept your service of process, they scan and deliver the document to you on the same day.
Cons:
We evaluated Harbor Compliance's website for quite some time and we still find their pricing information pretty opaque. Other than the registered agent service pricing info, which is wonderfully elaborated, it's very difficult to discover how much their other services cost.
Pricing:
Obtaining a registered agent by Harbor Compliance costs $99/year per state. If you decide to pay for 2+ years upfront, you'll get a 5-10% discount.
The reason why we wanted to include Swyft Filings in our curated list is because of its processing speed. Most suitable for small businesses that are on a budget, Swyft Filings is certainly one of the faster services on the market.
Pros:
Setting up your account at Swyft Filings and filling out the business formation form can take you as little as seven minutes. You can do everything over the phone, which can accelerate the process even further.
What we really loved about this platform is its à la carte approach. Many services offer everything in one package when the reality is you might not need some of the features. Swyft Filings offers individual options that you can select on checkout, based on your company's requirements.
Ultimately. Swift Filing's priority is their registered agent service. This service is especially skilled at annual report generation and apostilling documents for international filings.
Cons:
A disadvantage to Swift Filings is that the registered agent service option doesn't come included in their packages. However, you can purchase it as a stand-alone service, if that suits your needs.
Additionally, Swift Filing's customer service isn't exactly their forté. They like to boast that they offer round-the-clock support, even though that's not exactly true.
Pricing:
Swift Filings offers three packages: "Basic", that's $49 + state fees, "Standard", that's $149 + state fees, and "Premium", that's $299 + state fees.
Their registered agent service is priced at $149.

Conclusion
Let's wrap up things here. We're glad you followed through the very end of this article, and we hope that by now you've got a better idea about which direction to head to.
What's important to take away from this article is how to recognize the best registered agent service that best fits your requirements. With so many options out there, you can easily end up opting in for a service that offers either too much or too little for what you actually need.
Evaluate your business and decide which conditions you need to fulfill to be optimally compliant with every regulation. When you accomplish that, it should be an easier road from there, and we're pretty positive that you'll go for the right option. Based on our experience the big services like ZenBusiness, Incfile, and LegalZoom are almost always safe bets. And you're still uncertain you can read through a few more reviews of the services to see what others are saying. This review of Incfile vs LegalZoom goes pretty in depth and is worth looking over if you