One of the most important things to check off of your list when running an online business is to have the legal side of things all covered. There are several legalities all companies need to acquire and among them is the terms and conditions agreement (T&C).
Are you a blog or a tech site owner? Or do you fall under the eCommerce and retail sector? Nonetheless, every website that offers services or products should obtain a terms and conditions document.
That being said, we get that not everyone is a legal expert and considering how delicate these matters can get, it's great that you've turned to us. In this article, we've pulled together invaluable information that will equip you with the knowledge you need to get your own terms and conditions agreement.
To boot, we carefully selected and reviewed the best terms and conditions generators on the market. The aspects we took into consideration for ranking them were ease-of-use, popularity, legal compliance, customizability, and price. Below you can check out a list of 5 of our favorite terms and conditions generators.
First Things First… What Is a Terms and Conditions Agreement?
You might have heard about this document before, just under different terminology. You'll often run into the terms "Terms of use policy" and "terms of service" (sometimes even "user agreement") on different websites, as they're used interchangeably but mean one and the same. They both refer to a document drafted by a company that sets out the rights and duties of anyone using the company's website.
This documentation can contain anything that the company wishes to share with its users. From disclaimers, responsibilities, and age limits, to copyright conditions, user rights, and definitions, a T&C is usually stacked with policies that explain the relationship between the owner and the user. In short, think about it as a contract signed by the site and the user.
The terms and conditions page can often pop-up when you sign up for an account on an online shop or a social media network. But, you can always find it in the footer area or access it through the "help" section on a website.
Why Do You Need a Terms and Conditions Document?
Let's begin by saying that you aren't required by law to include a T&C on your site. But, for several important reasons which we'll discuss here, we definitely recommend obtaining one.
First, with a T&C, your company has a great opportunity to set the rules of the game. If you miss defining how you operate, how you protect your assets, and fail to let all of your users know their responsibilities, you leave yourself open to liabilities and serious harm.
For instance, in your T&C, you can define that the content on your website is protected with copyrights. This way you'll be legally protected from unauthorized content theft, and if someone steals from you, you'll have a solid foundation to take legal action against the malefactor. If you overlook this opportunity, people can take advantage of the game, use your content for free, or sell it to your competition.
Another extremely significant advantage of possessing such a document is limiting your own liabilities. You might not be aware, but your business can often make unexpected mistakes while operating. Offensive language in your content or marketing strategy can sometimes happen. Unintentional abuse of customers is also possible. Companies often get caught up in accidental harmful situations, so a properly worded T&C will save your skin sooner or later.
So, if you're serious about your business, get yourself a terms and conditions document by all means. On that note, you should also acquire a privacy policy for your website. Check out the article we wrote about it to learn how.
So, How Do You Get a Terms and Conditions Agreement?
Usually done by a lawyer, T&Cs can now be created and obtained on the internet. The services that can make that happen are known as terms and conditions generators.
If you have a small business or own a startup, a terms and conditions generator is a great option. They build T&Cs in a matter of minutes and cost only a few dollars. You'll get an attorney-level document simply by answering a few questions related to the nature of your business.
However, large enterprises or corporations could require the assistance of a legal professional. Here at StartupResources.com, we provide a selection of legal tools you can use to institute your legal policies.
5 Terms and Conditions Generators You Can Rely On
This is a showdown of what we found to be the top terms and conditions generators on the market. And to discover the best ones, we compiled a list of question that every generator that we tested had to answer:
Who is the owner of the website/business?
Is the owner of the website responsible for any losses or damages?
Are the terms of using the services thoroughly elaborate?
What happens when the user doesn't agree with the T&C?
Is the policy editable?
Our top picks not only answered those, but included many more additional clauses required for ultimate legal protection. They are all great options, so your job will be to find the one that suits your needs best.
Let's dive into each in detail.
1. TermsFeed – The Top Trusted Terms and Conditions Generator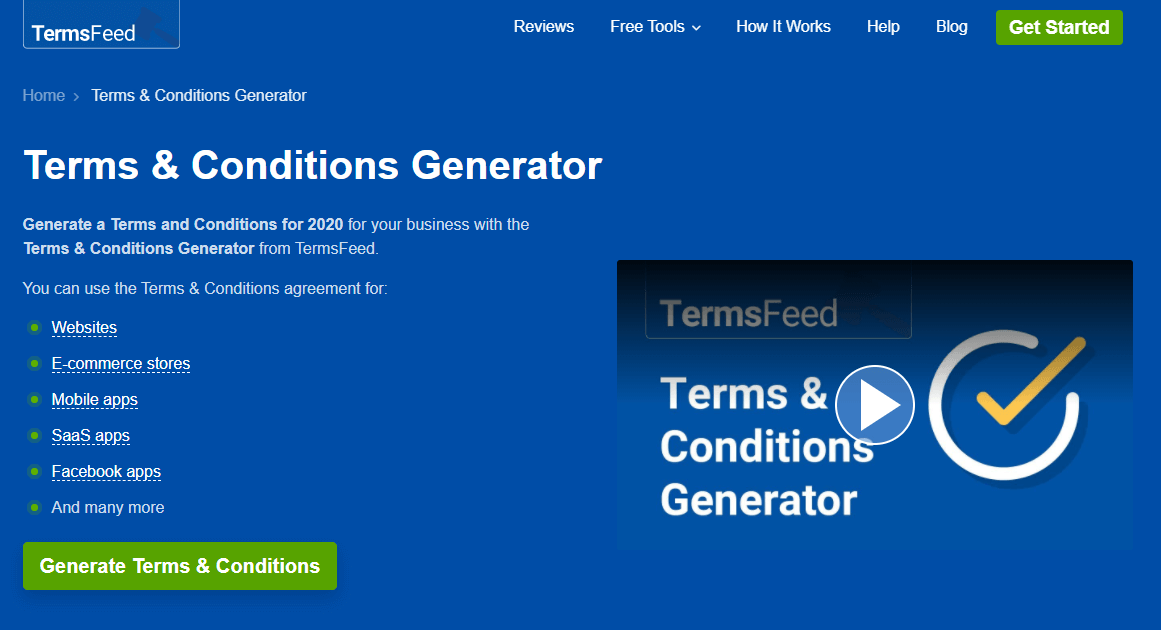 TermsFeed reserved the first spot on our list because it's the best overall terms and conditions generator out there. It's the closest thing to having a lawyer on your team. TermsFeed has been approved and praised by many customers and other legal companies, making it the most trusted T&C generator on the market. It's most suitable for those looking for a fast service with a one-time payment.

Pros:
What makes TermsFeed one of the fastest services in the niche is the automated system of questions it asks while building your documentation. And that makes for ease-of-use as well. You simply select the answers that apply to your business and the policy is yours in 2-8 minutes.
What TermsFeed creates resembles a handwritten document by a team of attorneys – which indeed secures your business. And all that comes for a fraction of what a hired professional would cost. With that said, you only pay once for the agreement and it's yours forever.
The service is highly customizable as well. They offer options for mobile apps and have clauses for frequent situations like copyrights, subscriptions, user accounts, etc.
Besides, TermsFeed doesn't stop there. They offer services for pretty much every legal policy your website might need. Those include privacy policies, cookies policies, disclaimers, and much more. Go ahead and check out our TermsFeed Review for more detailed info.
Cons:
While you only pay once with TermsFeed, the more clauses you need to have in your policy, the costlier it gets. It's the only downside they have, but we believe the peace of mind they guarantee more than makes up for it.

Pricing:
TermsFeed has a one-time fee and no recurring payments. The prices range from $13 to $72 depending on how many add-ons you select.
2. Termly – The Best Startup Terms and Conditions Generator
For small businesses, startups, and fresh entrepreneurs. Termly provides basic T&Cs that can be upgraded down the line.
Pros:
Termly's policies are one of the most comprehensive of all the generators we talk about in this article. They have attorney-level wording constructed with great detail.
The service offers documents presented on an amazingly well-styled background. It's one of the few tools that features high-quality themes in the building process.
Their dashboard is very user-friendly and Termly even has a free plan. Although we do not recommend that option because it's not fully compliant, their other plans, which are much better, are pretty affordable.
Ultimately, a key feature of Termly's generator is that it supports multiple platforms (websites, mobile and social media apps, etc.) in a single policy. And the document you get is editable – meaning you can come back to it anytime and add or remove necessary clauses.
Cons:
Termly's T&C agreements, unlike TermsFeed, are so comprehensive that they are quite difficult to set up. You'll be required to manually answer complex clauses which can be tiring and time-consuming.
The free plan Termly offers is very basic and lacks many important clauses. You also won't be able to host the document on your site if you opt for this plan, but instead link to Termly and have their watermarks on it. You'd have to go for the "Pro+" plan if you'd like to avoid this.

Pricing:
Termly has two plans: "Basic", that's free, and "Pro+", that's $9/month. We're not fans of recurring payments but prefer the one-time charge model, like the one TermsFeed offers.
3. GetTerms.io – The Fastest Terms and Conditions Generator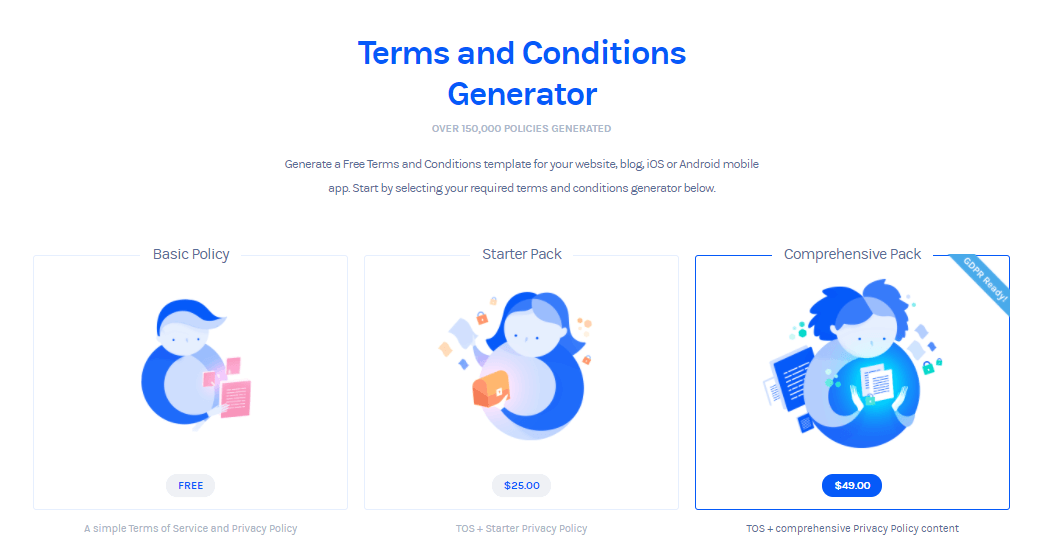 We've placed GetTerms.io on the third spot on our list. It's very similar to our favorite TermsFeed, it's like a lightweight version of it. If you're looking for a really fast and good-looking terms and conditions generator, then you have to take GetTerms.io into consideration.
Pros:
Out of all the T&C services we looked at, GetTerms.io was the fastest. Creating a terms and conditions agreement with this tool takes 5 minutes tops, and it comes with a privacy policy, all in one.
Besides, it has a very appealing look and is awfully easy to navigate. Even complete beginners can get around such a user-friendly setup.
What's really great about it, is that it offers a free option. It's a basic one, with all the standard clauses and a good alternative to Termly, if you didn't find that one attractive enough.
For more serious businesses, GetTerms.io offers two more paid packs. The "Starter Pack" discloses more clauses than the "Basic Policy" such as log data, cookies policy, data controller details, personal information, third-party access, and data protection officer details. It's pretty important to have these included in your agreement, to make it more compliant to regulations.
The "Comprehensive Pack" adds policies for device data, user-generated data, data footprint, and business transfers on top of everything, making your document entirely comprehensive.

Cons:
There are two downsides to GetTerms.io. One is the fact that the "Basic Policy" is definitely not a recommendation for serious companies. You need to opt for the other two packs to receive better protection.
The other is that you need to be quite knowledgeable of your business to understand what GetTerms.io is asking you while building your T&C. Unlike TermsFeed that lets you know what's optional and what required, GetTerms.io leaves you to ponder all this by yourself.
Pricing:
The "Basic Policy" is free of charge, the "Starter Pack" costs $25, and the "Comprehensive Pack" costs $49. Like TermsFeed, you pay for these only once.
4. Terms and Conditions Generator – The Best Free Terms and Conditions Generator
If you've just launched your website and want a free and basic T&C, Terms and Conditions Generator can easily satisfy that need. It has all a company in its cradle needs.
Pros:
Everything you need is in a single template at Terms and Conditions Generator. You fill a single form that asks you to submit info like your website name and URL, your company name, email, city, and state. Click next and you're presented with your T&C agreement.
That makes Terms and Conditions Generator incredibly fast. We mean fast like you get your documentation ready in under a minute.
Other pros we can mention about it, is that it's absolutely free, and it has a truly straightforward UX.
Cons:
Although Terms and Conditions Generator includes important clauses, like cookies, disclaimers, and liabilities in its T&C policy, it doesn't come close to what a fully compliant T&C should be. If you have a complex site consider it possible that you won't have total protection.
There is also the outdated design, which we guess you can overlook if you really need a free policy for the time being.
Pricing:
Free
5. Shopify's Terms and Conditions Generator – Best for eCommerce Websites
Do you use Shopify as a platform for your eCommerce website? If the answer is yes, then you're in luck! Shopify's Terms and Conditions Generator should intrigue every eCommerce business owner, even if they use another platform.
Pros:
First and foremost, a tool designed by Shopify would always instill trust in customers coming to your site. Shopify is a world-class platform with a great reputation, meaning people won't have to dig deep to find out if you're a legit retailer.
So, if you indeed use Shopify's platform, you don't even need to leave its dashboard to access its terms and conditions generator. It's all there in one place.
The generator itself is easy-to-use and readily customizable for whatever it is that you're selling.
If you decide to use it, make sure to subscribe to Shopify's newsletter, which will help you add more clauses to your T&C with time as they further develop the service.
Lastly, Shopify is a great all-in-one platform. Besides the T&C generator, it provides its users with free privacy policies, refund policies, bill of lading, etc.
Cons:
We found two drawbacks to Shopify's Terms and Conditions Generator. For one, the policies it produces are not yet fully compliant. However, the platform's teams are working on it, so you might expect complete compliance in the near future.
Another drawback is that you need to pay to use Shopify, so you can get the legal services as a free bundle with the plan you choose.
Pricing:
Shopify's Terms and Conditions Generator comes free with any Shopify plan.
Conclusion
It's crucial that you provide your T&C agreement with all the information that you deem important for your business. Choosing a terms and conditions generator to do that for you is a great idea that can potentially save you money and time, and can take off some of the tension that comes with the process.
We're sincerely delighted if we managed to help you decide on your final choice. If you haven't made up your mind yet, here's a brief summary of all the T&C generators we covered above.
In our opinion, TermsFeed is the overall best terms and conditions generator. We recommend it to everyone who considers hiring a legal professional because it delivers an attorney-level product. It's also the most trusted tool on the market and has a one-time fee.
Termly suits startups and small businesses the best because of its ability to edit your policies as you grow. It has the capability of generating one concise cross-platform T&C policy (website, app, social media, etc). Also, if you're soft on design, you should definitely give it a try.
GetTerms.io came third on our list, mainly because it builds T&Cs with the quickest and most user-friendly approach. It's comprised of three packs – a free one for your basic legal requirements, a starter pack for companies that need better protection, and a thoroughly comprehensive pack for those who need to cover all the regulations.
Companies that are just starting out should take a look at Terms and Conditions Generator. The service is completely free, offers all the compliances you need for your launch, and creates the T&C in a flash.
Last on our list came Shopify's Terms and Conditions Generator – ideal for those who use Shopify to build their eCommerce websites. The tool is already there on Shopify's platform, so you can use it right away. Equally important, the policies it delivers are customized to reflect the products and services you sell.
And that's a wrap! If you want to learn more about tools that can help your business and streamline how you manage it, check out the other resources we've shared at StartupResources.io. Sign up for our newsletter to stay on track with new tools and articles.
F.A.Q.
What should I put in my terms and conditions?
It all depends on your business, but consider including the following:
An explanation for the products or services you sell;
Information on shipping and delivery;
If you offer any warranties;
How are payments handled;
What is your governing jurisdiction and under whose laws you operate;
The standard procedure for a termination of the buyer/seller relationship.
What is the best terms and conditions generator?
TermsFeed is our top recommended terms and conditions generator, being the best overall such service.
Is TermsFeed legit?
TermsFeed is absolutely legitimate. It efficiently supports small business and comes very close to a substitute for a legal team of professionals, like no other generator out there. We found no issues while using it for the generation of every legal policy.
Is it OK to copy terms and conditions?
No. Copying terms and conditions can be harmful to you, your customers, and the original owner of the agreement. It's also illegal and you can get yourself a lawsuit for doing so.
Why are terms and conditions so long?
Like all legal policies, the terms and conditions document handles extensive details about the relationship between a company and its customers and the "what ifs" that may happen between the two. Composed of numerous clauses, T&Cs can be 2500 words or longer.
How do I add a T&C agreement in WordPress?
Access the WordPress dashboard and select "Pages" and then "Add New". Now copy the text of your generated T&C agreement and paste it into the textual editor of the new page you've just opened in WordPress. Add your title, click publish, and you're all set.
Why should you read terms and conditions?
Terms and conditions documents provide the rules by which a company operates and handles its customers. Failing to follow those rules (terms and conditions) could expose you to legal repercussions. So, it's always good to stay informed about how you should use a certain website.