Founded in 2012, TermsFeed is a company that helps online businesses acquire the legal agreements required for their websites and apps. Being a relatively young service in the niche, TermsFeed quickly managed to become the most popular online tool for generating legal policies. The company boasts an international team of attorneys, making it suitable for usage anywhere in the world.
Whether you have a website, a Facebook page or a mobile app, an eCommerce store, or you're a SaaS company, TermsFeed offers legal solutions for all. They provide six different policy generators that cover pretty much everyone's needs. As we researched this service, we tried and tested all six generators and tweaked between the options they feature. What we found throughout the analysis was, in all honesty, quite impressive.
In this article, we'll get into a detailed overview of each of them, as we discovered that they're all easy-to-use, fast, affordable, and of exceptionally high quality.
Why Do You Need a Legal Policy for Your Business?
Before we dive deeper, let's first answer that question.
Your company's online presence means that you interact with people on the internet one way or another. It can be selling products or services or simply collecting information from and about the users you interact with. From a legal perspective, you need to ensure that all of these activities are covered by high-end documentation that protects both you and your customers.
You might not be aware, but using certain services, such as geolocation (GPS), account creation, advertising, copywriting content, etc. can become a liability for your business. Also, in many cases, you're required by law to have these policies on your websites and apps. You can discover a lot more about these regulations by reading the EU General Protection Regulation and the California Online Privacy Protection Act.
How Does TermsFeed Work?
The process is as quick and simple as filling out a form. TermsFeed created its software to be so straightforward that you only answer a questionnaire and select the options applicable to your business.
For example: do you use Google AdWords? Tick the box if your answer is yes. What about GPS information? If that's a no, leave the box empty. Along the way, you'll notice prices on some features, which means that if you want to add those clauses in your agreement you'll have to pay for them.
After you're finished answering and paying, you're presented with the final product – a complete legal policy that you can have sent to your email, hosted on TermsFeed so you can link to it, or download it directly in your preferred format:
And you have your document with you without breaking a sweat. Kudos to TermsFeed! Simply post it on your site or app and the job is done.
Now onto our in-depth analysis of every particular service TermsFeed offers, its pricing, strengths, and potential weaknesses.
NOTE: TermsFeed, or any other similar online service for that matter, is not a substitute for a real legal professional. Some matters that your business might be involved with, such as prize draws or sweepstakes, need to be drafted by a skilled attorney. We also highly recommend consulting with a law firm if you're a large enterprise or a corporation.
Features and Services Offered by TermsFeed
TermsFeed offers six generators of legal policies on their website:
We tested each of these by generating a sample and assessed it in terms of quality, compliance, comprehension, and price. Let's start with the first one.
Privacy Policy Generator
We were positively impressed after trying out the privacy policy tool by TermsFeed. It's so intuitive that the process of generating our sample policy took us only 3 minutes.
And the end result was fantastic – the document was fully compliant with both the CalOPPA and GDPR regulations, concise, and of exceptional quality.
To access the privacy policy generator, simply go to the TermsFeed's homepage and click generate privacy policy.
The first screen will ask you to choose if your policy is dedicated to a website or an app. On the following screen, you'll be presented with a questionnaire about your company's main info – its name, address, type, and country.
Next, you'll enter the main section which consists of questions about how your business operates, what kind of data it collects from your clients, and if it uses any other online tools and services.
Important: make sure to opt for the GDPR and CalOPPA wording – those are the most important regulations you need to follow and without them, your privacy policy is practically useless. After you're done with these questions, your policy will be ready for download.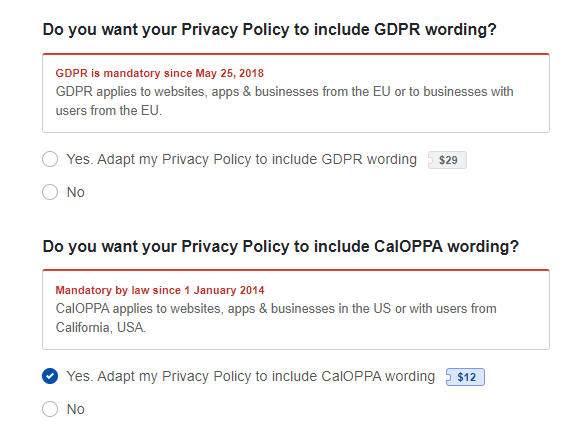 Bear in mind that if you collect any kind of information from the users on your website, you're required by law to have a privacy policy embedded on that website. That information can include your customers' email addresses, phone numbers, first and last names, physical addresses, social media details, etc. The main purpose of this is to protect the users' privacy.
TermsFeed is our top recommendation tool for generating privacy policies. We compared it to four other amazing generators and created a list of the five best privacy policy generators. Check out that article to see who made it on the list.
Terms and Conditions Generator
TermsFeed certainly doesn't lack in mastery with its second service – the Terms and Conditions Generator. This generator delivers a "terms of use" policy for online businesses that want to define under which rules and regulations their websites and apps operate. The principal purpose of such a document is to protect your business from potential liabilities.
Businesses are not required by law to obtain a T&C agreement, but we strongly recommend that you should get yourself one. Having one will provide grounds for legal protection from various online threats, like content theft for example. Also, it will limit your own liabilities and save your skin from potential lawsuits.
Getting a T&C with TermsFeed is as easy as one-two-three. The procedure is actually very similar to how you'd get a privacy policy. You enter the details about your company and then answer questions that apply to your business activities. "Can users create accounts on your site?" and "can users purchase products?" are some of the questions you can expect to see on the list.
When you're all done with this part, you'll get a screen where your terms and conditions agreement is ready to be delivered to your email.
It only took us 3 minutes to generate our sample T&C, and again, the quality of the final product was as good as it gets. The document was comprehensive, included all the necessary clauses, and TermsFeed even offered to notify us when new changes to clauses and regulations are available, so we can have our policy up-to-date.
Aside from that, we reviewed five of the top-rated terms and conditions generators on the market and TermsFeed crowned that list as well. Read more in that article to see how it compared to the rest.
Cookies Policy Generator

On the third spot of TermsFeed's list of services is its Cookies Policy Generator – a pretty light and straightforward solution to get users to consent to cookies on your site.
Businesses need this document to notify users where cookies are placed on their website and how and why they're used. Through this form, they need to offer a solution to gather consent from their users (which also means giving an option to refuse) and an option for users to request deletion of their gathered data.
So far, this was the easiest tool to use. Our sample policy was generated in under one minute. The process was pretty much the same as the previous examples, only simpler. You're asked to fill your company's details and answer only five questions.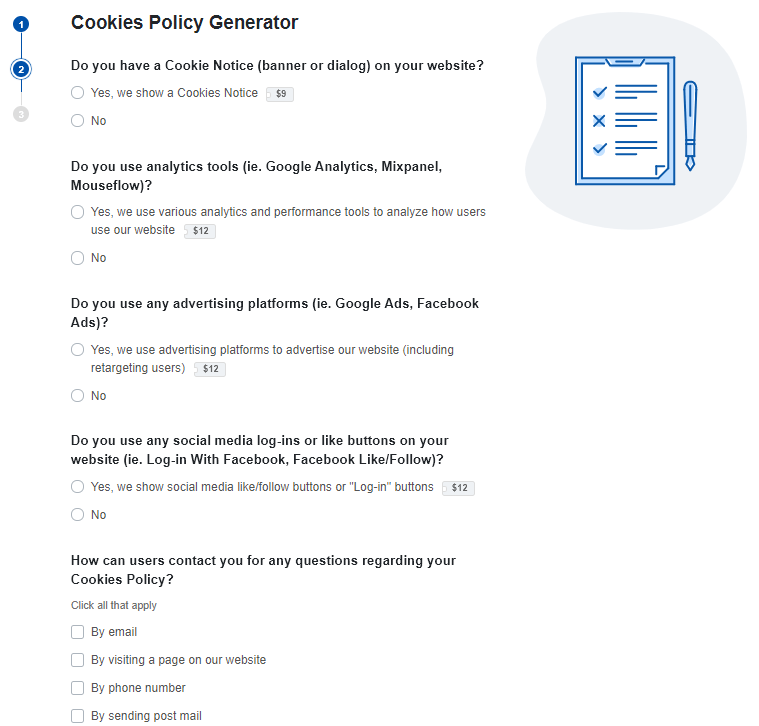 Compared to the other features on TermsFeed, we noticed that the cookies consent generator was slightly behind the other policies in terms of quality. Don't get us wrong, it's still an amazing tool which delivers the required document ultra-fast (less than a minute), but the end product is not as personalized as the other policies were. The main option that's absent is the gathering consent solution.
To compensate for the shortage of a gathering consent solution from its main cookies policy, TermsFeed offers a separate Cookie Consent Solution. This comes absolutely for free.
According to the GDPR regulation, it's very important to include such a solution on your website, and while the solution itself lacks consent for Google Analytics, it's still a great option to consider.
EULA Generator
The End-User License Agreement (EULA) is another important segment of your online business' legal documentation. If you own software and sell it online, you better get yourself one of these.
This agreement protects your company and the software you sell from multiple harmful situations. It serves to show that you actually do not sell the software to your users – you only sell a license that gives permission for that software to be downloaded, installed, and used "as is".
This prevents someone else from owning your software (meaning they don't have permission to resell it). In addition, the EULA document states that your software cannot be used for illegal activities. Ultimately, it limits your liabilities. It notifies the buyer of the license that there's no warranty for it and that, in the case of irregular functioning, you hold no responsibility.
Just like all of TermsFeed's services, the EULA generator was an effortless tool to use.
During our testing, we discovered that there's no match for the TermsFeed EULA Generator on the market concerning quality. It's the best generator of its kind, delivering agreements written in a clear and comprehensive manner. Granting of license, license termination, infringement information, and restrictions on use were among the many clauses the document included.
We feel obligated to say that this agreement can get a little expensive, but for the full coverage of all the legal clauses it contains, we absolutely think it's worth every penny.
Disclaimer Generator
If your website, or any other platform that you use for your online business presence, contains affiliate links, you're in need of a disclaimer document. TermsFeed Disclaimer Generator provides just that.
To provide a better explanation of what types of disclaimers the TermsFeed format covers, you can visit their "Disclaimer Examples" article. We were most interested in an "affiliate disclaimer" type of document and that's what we've tested this tool for.
Basically, what a disclaimer does is limit your liability in the case of a user's mistake and informs users that your platform contains affiliate links. Websites need to disclose this information to be compliant with the law. Additionally, if your website gives advice or instructions, for example, a recipe or fitness-oriented website, obtaining a disclaimer document is a great way to avoid responsibility with a "use-at-your-own-risk" clause.
Simply follow the above-mentioned instructions and you'll get your disclaimer in 4 minutes tops.
Time and time again, we found this TermsFeed generator to be the best of its kind. We loved how incredibly cheap the product was and the possibility to edit it at any future point.
Return and Refund Policy Generator
As a very last service offered by TermsFeed, we have their Return and Refund Policy Generator.
A return and refund policy is a must for eCommerce companies. It's the most reviewed of all legal policies by customers because they want to know how the company handles cases of returning the product back to the shop. And this policy is a great way to foster trust. It should be written in a manner that's understandable for the customer, but it also needs to cover the important clauses to protect your business. TermsFeed does that in a great fashion.
Although the TermsFeed generated return & refund policy is great when you buy it, it becomes dated over time and it doesn't have the ability to self-update. You're going to have to go back to it and add applicable clauses from time to time.
However, the process is very smooth and the end-product short, concise, and cheap, so it's still our recommendation to give this generator by TermsFeed a try.
TermsFeed Pricing
Let's start by saying that you can get every policy on TermsFeed for free. Even so, we don't recommend you rely only on the free versions. They might be fine for startups and small businesses that are about to launch, but since they're not fully compliant and lack major clauses, you should seriously consider paying for a thoroughly comprehensive document.
What's great about TermsFeed's payment model is that you only pay once for what you need and what you get is yours forever. There are no recurring payments, no hidden costs. And you only pay for the additional "premium" clauses that you include in your custom policies.
TermsFeed's acceptable payment methods are credit/debit cards, Amazon Pay, and PayPal.
We generated a sample of every policy TermsFeed offers, and as far as prices go, some of TermsFeed's products are very cheap and affordable, such as the disclaimer ($24), the terms and conditions agreement ($28), and the return and refund policy ($28).
In contrast, other services can get quite pricey. The EULA sample policy that we created cost $88 (pretty high for that type of document) and the privacy policy was $119. That being said, we still highly recommend including everything that you need for your policy even if it's a bit steep. If avoiding a potential lawsuit takes $30 extra, you bet it's worth it. Note that all of these prices are just a fraction of what a law firm would cost. At the end of the day, great quality breaks the bank, but the outcome always pays off.
"The bitterness of poor quality remains long after the sweetness of low price is forgotten." – Benjamin Franklin
Pros and Cons of TermsFeed
Pros:
1. Intuitive UI
TermsFeed has one of the most intuitive user interfaces we've encountered in generators of its kind. It takes 2 clicks to get to select the generator that you'll be using and 5-6 clicks in total to get your policy ready. The style of filling out the questionnaire is very straightforward as TermsFeed asks a set of predefined questions and you only select the answers that apply to your business. Other services on the market would have you fill out the answers yourself.
2. Legal Compliance
The policies TermsFeed creates resemble documents drafted by a team of professional attorneys. And their cost is just a tiny bit of what a hired lawyer would ask. Every policy can be extremely comprehensive, depending on the clauses you include, and they're all GDPR and CalOPPA compliant – the most important feature of every legal document.
3. Pricing Transparency
All of the add-ons that you pick when generating your policies with TermsFeed have clear visible prices. We applaud such transparency as we're not huge fans of hidden fees and provisions. What's also really great is their payment model – you only pay once for your product at checkout. From that moment on it's completely yours and there are no recurring fees. Most other services on the market charge monthly, which many customers find annoying.
4. Policy Update Notifications
TermsFeed employs an international team of legal attorneys who are constantly on the lookout for changes in every law and regulation concerning the policies they generate. When they identify a new change, they immediately work on updating their generators with a new clause or alter a former one. As soon as this is available in their system, they send an email to all of their clients to notify them about the update, so the clients can implement the update in their policies as well.
5. Free Hosting
TermsFeed hosts the policies it generates on their platform, so you can choose to link to them if you don't want to create an additional page on your website/app for your legal policy. This comes free of charge.
6. Free Templates
If you're just starting out with your company and you don't wish to purchase a "premium agreement", you can always opt for the basic free versions of all of the policies TermsFeed offers. Note that, as soon as you climb up the ladder, you should update your documentation with clauses that provide more security.
Cons:
1. Pricey Premium Agreements
There are only a couple of things we can mention that are possible drawbacks for TermsFeed. One of which is their moderately expensive "a la carte" pricing method to enhance your policy. The more advanced clauses you choose to make your document more comprehensive, the costlier it becomes. This is not the case with each generator, but we've noticed that the privacy policies and the EULAs include more "premium" clauses than usual, hence the higher price. However, as we mentioned before, we always value good quality for a higher price over a cheap low-quality document.
2. Lack of Cookie Consent Solution
While TermsFeed offers a free cookie consent generator as a separate tool, we believe it's more important that this document is merged into the cookies policy. Mainly because most regulations require it. Also, the free solution didn't include consent for Google Analytics – something which is required in the EU.
Conclusion
Overall, we definitely recommend TermsFeed. After all of the research we conducted and all the different generators we tested, it came out as our top pick. Straightforward, legally compliant, fully transparent, and of great quality – these are the characteristics to look for in an online policy generator, and TermsFeed certainly satisfied all of these criteria. If you'd like to read another review, here is another VERY detailed review here.
Time to wrap things up! If you liked our review of TermsFeed, make sure to check out our smorgasbord of helpful legal tools at StartupResources.io. And sign up for our newsletter to receive a fresh batch of tools and articles every week.
F.A.Q.
What is TermsFeed?
TermsFeed is the world's leading online service for legal policies generation. It delivers high-quality privacy policies, terms and conditions agreements, EULAs, cookies policies, disclaimers, and return and refund policies.
Is TermsFeed legit?
TermsFeed is definitely legitimate. Trusted by thousands of clients, TermsFeed comes very close to a professional lawyer. We tested it and found no difficulties to create many different kinds of legal policies.
Is TermsFeed free?
TermsFeed does have free versions, although, to be fully GDPR and CalOPPA compliant you'll need to purchase "premium" clauses. The free options offer little legal protection and are only suitable for very small businesses and companies in their launch phase.
How much does TermsFeed cost?
Throughout our testing of TermsFeed generators, we discovered that "premium" features range from $9 to $29. So the cheapest policy you can get would be $9 and the most expensive one – $242. Having said that, an average business with average activities would spend $30-$70 for a well-protected compliant legal agreement.
How long does it take to set up a policy on TermsFeed?
Depending on which policy you opt for, the process can take from 1 to 10 minutes at most. An average duration for a policy generation with TermsFeed would be 4-6 minutes.
Do I need to make an account with TermsFeed?
You don't need to make an account to use TermsFeed. You can use all of its services without an account. Simply select the generator that you'd like to create a legal policy with, enter all of your business info, and you'll get a download link for your finished document.
Updated: January 19, 2022